Gunnison Valley Chapter, NSDAR, was chartered on February 25, 1917, with 18 members signing the charter. This charter is one of the few numbered Colorado charters issued.
This chapter is the oldest patriotic organization still in existence in Gunnison.
With the enthusiastic band of 18 patriotic women, much work was accomplished in the years that followed. A quote from the first minutes stated, "The Regent, Mrs. Shackleford, presided with grace and dignity." "The American Golden Rule," she said, "was to love your neighbors as yourself and your country more than yourself."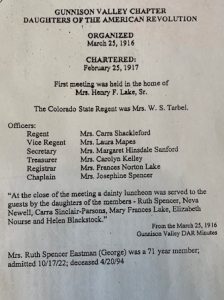 This chapter continues to support veteran activities in peacetime and war. Each year, the chapter has a program dedicated to our veterans and takes gifts and other articles to the nearest VA hospital in Grand Junction. A member has received an award for 1,000 hours of veteran volunteer service, and other members have given many hours of service to veterans.
Since 1917, this chapter has knitted articles for soldiers and rolled bandages in support of the war efforts; now in peacetime, our members bake cookies for the disabled veteran's ski clinic held in Crested Butte, Colorado. Gunnison Valley Chapter organized the Gunnison Red Cross Chapter soon after it was established in Switzerland in 1917.
Constitution Week has been very important to us. During this week, our chapter initiates activities at schools, churches, through newspaper articles, and a proclamation from the mayor to inform the Gunnison Community of the importance of our Constitution. Churches and schools are asked to participate in "Bells across America."
To recognize our American history, we sponsor the American History and Christopher Columbus Essay contests as well as the American History Teacher award. We present American history programs at our meetings and also honor George Washington through weekly news articles. During 1999, our mayor recognized the 200-year anniversary of the death of George Washington with a proclamation.
By donating a display case to the Gunnison Pioneer Museum, our chapter has been able to display many historical articles including our 1976 bicentennial quilt, which was made and signed by chapter members. Also, President and Mrs. Gerald Ford and our 1976 NSDAR President General signed the quilt. Other memorabilia on display include antique dishes, a 13-star flag, our chapter charter, and a picture of the Grand Army of the Republic, which was found in a Gunnison attic.
We have three new grave markers for our deceased members. These are for Jean Besse, Winona McKee, and Mary Margaret Doyle.
Members have documented records of all Gunnison County cemeteries and the early records of the Episcopal Church, showing births, deaths, and marriages, which have been kept from its founding in the early 1880s. These records have been placed in the genealogical section of the local library and sent to the state and National DAR.
This chapter honored a member of the community for gathering and selling aluminum cans. From his efforts, about $1,800 each year is donated to the Gunnison Health Care Center. The Hartman Rocks Users' Group was awarded the NSDAR Conservation medal and certificate for its outstanding clean up and restoration work in the Hartman Rocks Recreation area.
This chapter has awarded a medal and certificate to the DAR Good Citizens each year since 1952. We continue to support our Indian Schools with clothing and product labels.
Twenty-five-, forty-, and fifty-year certificates were given to our members.
Our Chapter Name

The Gunnison Valley Chapter, NSDAR, was named for 41-year-old Captain John W. Gunnison, who, as a United States Army Topographical Engineer with 11 years of wilderness surveying behind him, camped along the river in 1852. Secretary of War Jefferson Davis selected him to survey a railroad route through the Rocky Mountains crossing the Continental Divide at a point near Cochetopa Pass. His work paved the way for the Rio Grande Narrow Gauge Rail Road built in the early 1880s from Salida over Marshall Pass to Gunnison, through the Black Canyon of the Gunnison, and on to the west. Captain Gunnison lost his life to Indians in Utah in 1853.
The Gunnison River, Town of Gunnison, Gunnison County, and Gunnison Valley were also named for Captain Gunnison.